LoveSac
generously sent me out a pair of their lusciously soft slippers to try out and tell you about!
My morning routine
This is the start to my mornings. Get out of bed, slip my feet into the
Phur Slippers,
shuffle over to my coffee maker, then sit down with my laptop and blog. This picture sums it all up! I love how soft and squishy the slippers are. Another goody is that it has soles on the bottom. Before when I had slippers, they would wear out fast because the bottom was soft and couldn't take much wear and tear. Not these! I even ran outside with them in my morning fog and glory to rescue my toddler that snuck out to the backyard by himself. I worried what it might have done to my lovely new slippers but they were fine. Also, sometimes I've found slippers annoying because they wouldn't stay on my feet well. These are a perfect fit with their sizing. I don't always like to get on my sneakers in the house but yet my feet get so sore on the hard tile by the end of the day. I keep the slippers around to slip on and off as needed. I love them!
Of course they sell lots of other things like pillows, blankets, kid chairs, comforters, mattress toppers, t-shirts, sectionals, and the famous sacs. I've visited their stores in the mall and really loved sitting in their couches. Super comfy.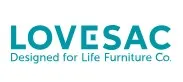 Phur Slippers
Slippers Phur Feet...what a concept. As with anything made by LoveSac, these are simply the greatest slippers available…maybe in all the world.
LoveSac Phur is a hypo allergenic polyester knit that is surprisingly durable. With a vintage LoveSac tattoo neatly embroidered under-foot, you can wear these slippers and feel like the closet rock star that you are, while keeping that edgy, hardcore, late night, brawling, binging, head banging, gun slinging, moshing, line dancing, partying side of you under wraps in front of the family...